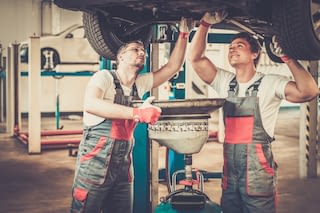 Recycling of Automotive Fluids
Refrigerants, brake fluids and more
We are specialized in the recycling of liquids from the automotive sector.
When end-of-life vehicles are recycled, operating fluids such as brake fluid and refrigerant are removed and collected separately. At RCN Chemie, we recycle valuable solvents from used automotive fluids and workshop waste. These are then returned to the cycle.
This results in less environmentally harmful waste materials, which for you is reflected in significant cost savings through reduced disposal costs. Lower storage costs and reduced purchase of fresh produce are also significant advantages.
We would be happy to advise you personally on our possibilities in the field of recycling of automotive fluids. Together we will find the optimal solution for your old products. Please do not hesitate to contact us.
Sustainable recycling of used operating fluids
Reduction of environmentally harmful waste materials
Cost savings through reduced disposal costs
Return of the solvents into the economic cycle