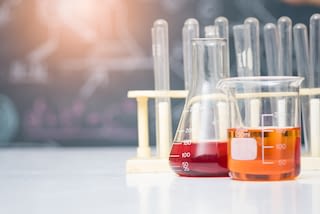 Regenerated solvents
High-quality products according to your specifications
We take over the contaminated solvents of our customers and produce high-quality products from them. This saves valuable resources.
The solvents are not destroyed after use (e.g. by combustion), but are reprocessed by us into high-quality products and added to the economic cycle again. These solvent regenerates are then marketed by us worldwide.
We offer both halogen-free and halogen-containing solvent regenerates. Below you will find an overview of the most common products.
Our portfolio of regenerated solvents
Halogen-free solvents
such as
aliphatic hydrocarbons
aromatics
alcohols
ketones
esters
glycols
Halogenated solvents
such as
perchloroethylene
methylene chloride
Further products + services
Solvent recycling services
In the course of contract processing, we also accept your contaminated solvents and distill them according to your individual specifications. In this way, you receive your own solvent with analysis certificate, specially adapted to your needs, back for further use in your processes.
As part of the STOCKMEIER Group, we can also provide you with fresh goods in the necessary quantities upon request. This service is unique and guarantees you will always have the best possible supply to suit your needs.